The end of the west's humiliating affair with Paul Kagame
The US has belatedly woken up to the warts-and-all reality of the Rwandan president. When will Britain acknowledge that its development darling may have feet of clay?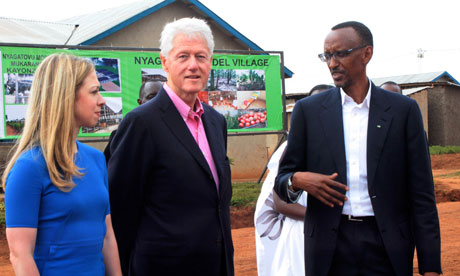 That is why the US decision to cut aid, and now to warn Kagame that he could even face criminal prosecution over meddling in the neighbouring Democratic Republic of Congo, is a humiliating but long overdue reversal.
The UK, US and others rushed to embrace the east African state's new leadership and support the rebuilding of the country: Rwanda was a special case, and would be given more leeway than most. The aid taps were turned on and the money flowed, with tangible results: great gains in education and health and in the reduction of crime and poverty.
Secondly, then, Rwanda has come to symbolise what donor aid can do. It has been a trump card for the defence of the Department for International Development (DfID) when the Treasury attempts to turn the screws.
"Secondly, you can't argue with the fact that Rwanda has gone on a remarkable path of development. Every time I visit Kigali and the surrounding areas, you can just see the changes being made in the country."
David Cameron appears almost equally enamoured, and the current development secretary, Andrew Mitchell, visited Rwanda only last week. He said he had delivered "frank messages" to both Rwanda and Congo about the current instability and violence.
Diplomatic language apart, however, Britain has been painfully silent about Rwanda's pernicious influence in its war-torn neighbour. The recent UN group of experts' report named names in the Rwandan government and military who are in contact with Congolese rebels, feeding from the trough of its mineral resources and supplying weapons and uniforms.
"Kagame was here last week and told a barefaced lie to David Cameron and other British officials," says one UK-based analyst. "He denied Rwandan meddling in Congo even though the evidence is overwhelming."
None of this fits the development darling narrative, however. Instead, it is much less unpleasant for visiting diplomatics to admire the transformation of the capital, Kigali, with its safety, orderliness and cleanliness (there is a ban on plastic bags).
In decades past, the west has been criticised for applying selective vision to the sins of leaders such as Mugabe and Idi Amin until late in the day. America, it seems, is reluctantly removing the scales from its eyes regarding Paul Kagame. For Washington it may merely represent the end of a beautiful friendship; for London, it will feel more like a broken heart.